Who are we?
Switch Radio is Birmingham's local community radio station - it's made in, for, and by Birmingham. We've been operating since 2010 and have built a reputation for keeping the community at the heart of everything we do.
We are available on FM radio across North-East Birmingham, DAB digital radio across Birmingham, online via our website, and on mobiles via the Radioplayer app or TuneIn.
We love Birmingham, and our listeners love us. We pride ourselves on providing a distinctly local service - whether that be keeping our listeners up to date with local news, traffic, sports, events or providing a platform for local artists (through our local music policy).
When we're not entertaining the masses, we're providing training courses for the young and unemployed, and are an accredited training centre for the delivery of media courses. We run projects exploring homelessness, youth crime, disability and mental health. Advertising with Switch is about more than just advertising.
Our station in numbers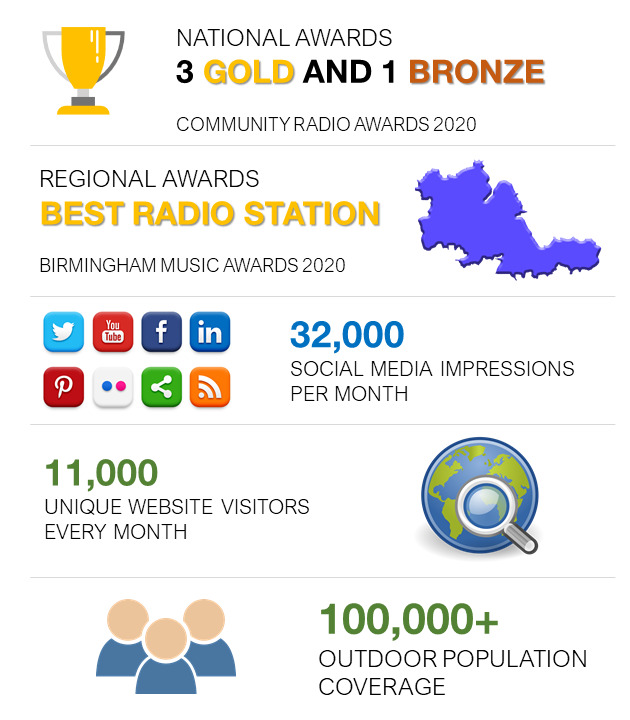 What do we offer?
On air advertising
We offer radio advertising at competitive rates. We can help with the scripting and voicing of your advert. Whatever your requirements, we can get your voice heard.
Web advertising
We offer advertising on our website and our radio players. We'll work with you to design a great visual that grabs the attention of the viewer.
Sponsorship
Want the next level of exposure? By sponsoring a show, you can leverage the trust our audience has in our content and you can become a part of the station.
Outside events
We're not just about doing things in the studio – we can bring your event to life with our expansive range of outside broadcast solutions. From a small event to a full stage and large PA system, Switch Radio has you covered.